The July 2020 box holds a few reusable items. Our favorite are the silicone gummy bear molds.  Below find some fun ways to use your new molds.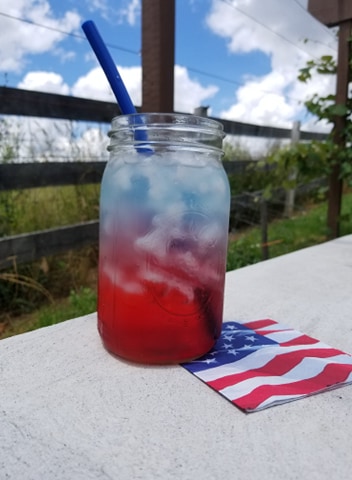 4th of July Kids Mocktail
Just when you think this layered drink can not be anymore fun, you notice the ice are made of bears! The only thing this drink is missing are sparklers! 
This kids drink is super easy, just make sure you plan ahead and make enough ice the day before. The mold freezes in about 2 hours, so as long as you remember it you will be able to stock pile what you need in a days time. 
Making the Mocktail
The layering effect happens due to the sugar content of each drink. So opt for the real sugar in your red juice and low sugar in your blue. The more sugar in the drink the heavier it will be. This can also be a fun science thing to teach your kids about liquid density. 
RED LAYER- any red fruit juice that has a higher sugar content. 
WHITE LAYER- a clear soda works well as it helps to balance the flavors.
BLUE LAYER - two low sugar options are sugar free Kool-Aid or low sugar (G2) Gatorade.
To mix layers;
Pour in your red layer first. Once your red layer is in add ice to fill your glass and a straw if you like. Using a spoon to deflect the direct stream, slowly add your soda. Following the same technique add your blue layer.